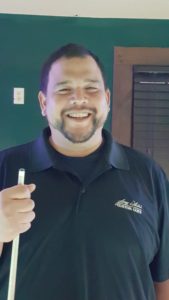 Yoko Joe was always fascinated with the game of pool as a small child. However, he did not get the opportunity to play until he was 21 years old. He was quickly absorbed in the game by continuing to strive to be the best at it. Yoko plays out of Legend's Billiards in League City, Texas. Legend's is the home of the Houston Open, sponsored by Jerry Olivier Custom Cues.
He competes in various tournaments through out the year. His most recent accomplishments are:
Placed 1st in 2016 BCA National 9 Ball Teams Platinum Division Las Vegas, NV
Placed 3rd in 2016 BCA National 8 Ball Teams Gold Division Las Vegas, NV
Placed 17th in 2017 Texas 10 Ball Open at Skinny Bobs Round Rock, TX.
Yoko continues to strive to reach the next level and be the best player he can be!