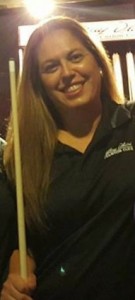 Jerry Olivier Custom Cues is proud to announce the sponsorship of Veronica 'Pistol' Perez!
Veronica plays out of Skinny Bob's in Round Rock, Texas, home of the Texas Open 9 Ball where she earned her nickname Pistol Perez.
She has been running weekly Saturday tournaments out of Skinny's for the past 3 years. She started raising money for St. Jude Children's Research Hospital on her second year.
Some of Pistol Perez's recent achievements:
9th out of 32 Ladies in the Texas Open 9 Ball 2014
9th-12th out of 26 Ladies in the Gulf Coast Tour(WPBA)
5th out of 32 Ladies in the 2nd Chance Vegas Open Division 2015
4th in BCA State B Division in Killeen, Texas 2015